Tips on How To Stay on Budget
By Shirley Yang
June 4, 2021
Studying abroad can be extremely expensive for many international students due to the higher tuition fees and the living cost. That being said, I believe I'm not the only one who always tries to spend a loonie like a toonie (these are 1 and 2 CAD, respectively!) Therefore, I'd like to share some tips that worked for me on my everyday expenses. These ideas might not save you a whole lot at once, but many a little makes a mickle!
1. International STUDENTS?
Don't miss out on offers exclusively for students! Get the most value out of your student identification. A wide variety of stores provide student specials with your student identity. To name a few, conference registration fees, entrance tickets, computers & laptop deals, bank accounts, phone plans, software subscriptions, and online memberships can have student-discounted rates.
Even though these student-only offers are generally good value in price, do mindfully evaluate based on personal need. Perhaps, other available promotions suit you better, or the student options have more restrictions that bring unwanted inconvenience.
2. Grocery shopping
The list of why (international) students cook their own food is endless. The very first one on my list is to SAVE more! Before jumping right into the topic of how to save on grocery for your cooking, identifying the features of different stores is helpful. In most cases, there are stores on the higher end, and some others with more budget choices. On top of that, stores at relatively convenient locations or in close distance tend to be pricier. Moreover, some stores have a better "international" section that carries essential ingredients to replicate your taste of home.
TLDR. If you can simply access the stores with lower prices, great! However, if you have preferred stores that aren't the cheapest option, you can try to find out whether a student discount is available and combine benefits from their membership program if possible. This can at least narrow down the price gap even if it's not the cheapest option available and can gain a reasonable saving on your grocery bills. BTW, highly recommend not to do grocery shopping while hungry.
You might be familiar with checking weekly flyers for products on sale and making a grocery list as it seemed to be an intuitive and classic way of saving. Although this can save a considerable amount on one's grocery budget, it's quite a lot of work.
Checking flyers become so much easier for me when I came across apps that provide collective digital flyers and a paperless grocery list function. I personally use "Flipp" and love how it optimized my routine grocery shopping. It allows me to browse through all flyers together and make comparisons between them effortlessly. I can then decide which store has the best combination of products that interested me this week. The time that took me to put together a grocery list decreased by much, because an e-grocery list is generated simply by tapping the flyers on my devices.
Believe it or not, certain grocery stores offer student discounts on designated days. The discount normally works by showing your student ID to the cashier, and sometimes requires a membership card, which is often free and easy to apply for. For example, 10% off on your purchase every Tuesday at Sobeys and Zehrs in Kitchener-Waterloo (KW) are and every Wednesday at Bulk Barn.
*Correction October 25, 2021: The 10% off on your purchase offer at Zehrs is now show your student ID and receive 10% of your grocery order back in PC Optimum points. Students must have an active PC Optimum account in order for points to be added.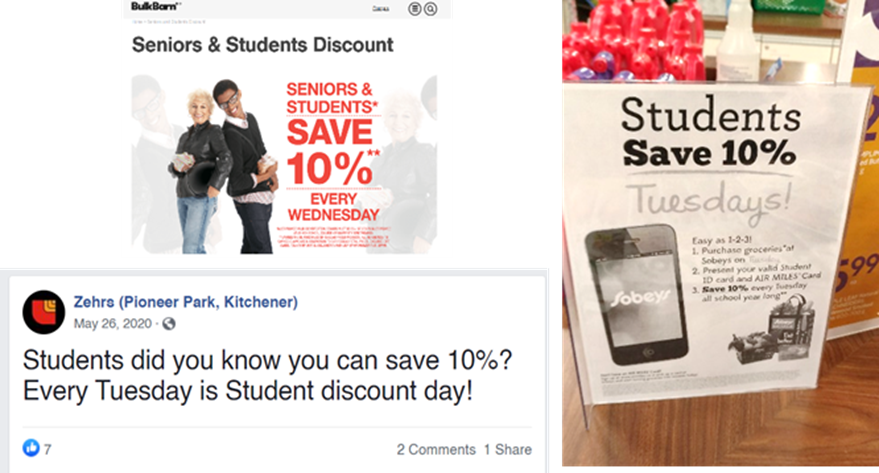 Membership and reward programs
Many grocery stores have their own membership system, and often run a rewarding program based on it. These memberships are mostly free and easy to apply for. Members can often get exclusive promotions, redeem benefits, or cash backs on their future bills.
In fact, this trick applies to may general consumptions. It is possible to redeem yourself a plane ticket to go home with aviation reward programs. For your to-go brands, you can also go advance and get their apps, follow their social media, subscribe for newsletter and promotion texts. However, make sure you don't drown yourself in a flood of these notifications, it's easy to soon go numb and become insensitive with these stimulators, then end up with reverse effects.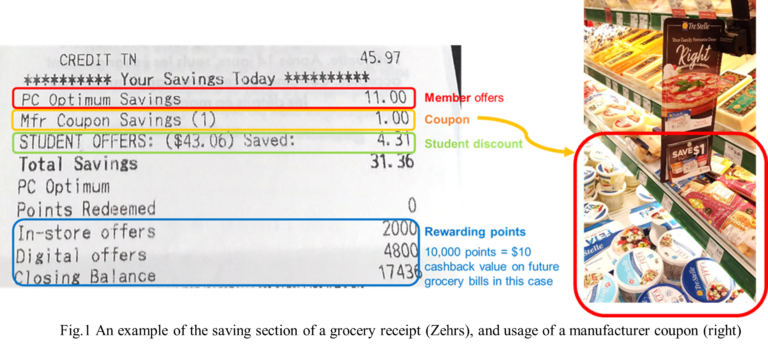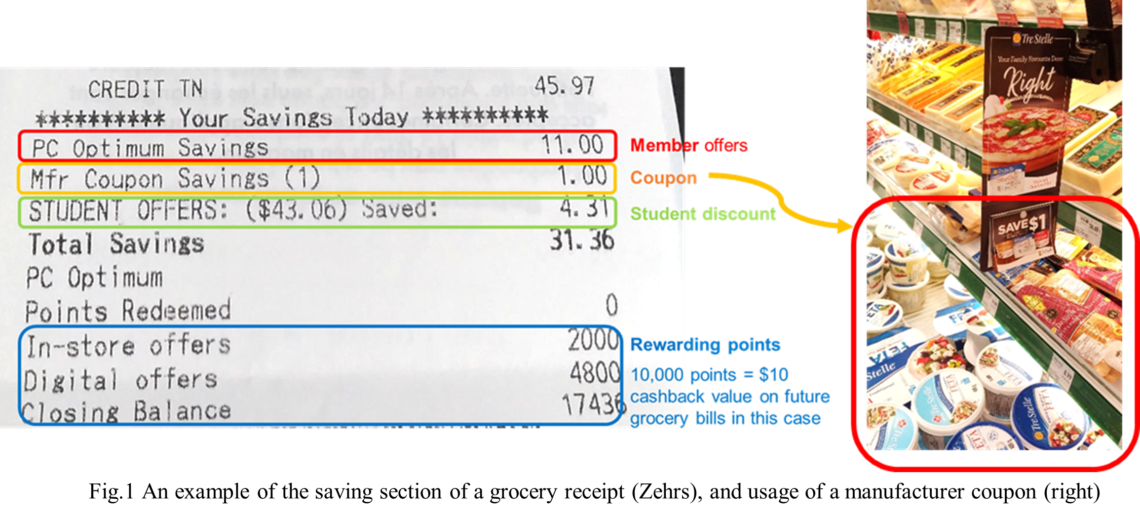 3. On your way?
Owning a car is a common solution for travel and commuting in North America. Whereas, from an individual student perspective, owning & maintaining a vehicle is a big commitment in terms of budget and effort. There are some exciting commute ideas that may help to keep up the budget but still allow one to move around economically.
Biking can be a great alternative for individuals to get around and move between buildings on campus. A good balance can be achieved by combining biking and the public transit system. This can free you from restricted by the public transit schedule and crowdedness during rush hours. Biking also brings more mobility and capacity of carrying more stuff compared to walking.
Broadly speaking, public transit in Ontario is pretty  bike-friendly, you can either bring your bike on board  or place it on bike racks. UW Bike Centre has some useful information about cycling in the town. What's more, biking is also a healthy way to destress and enjoy the nature while keeping social distancing.  (Don't forget to wear a helmet and LOCK your bike!)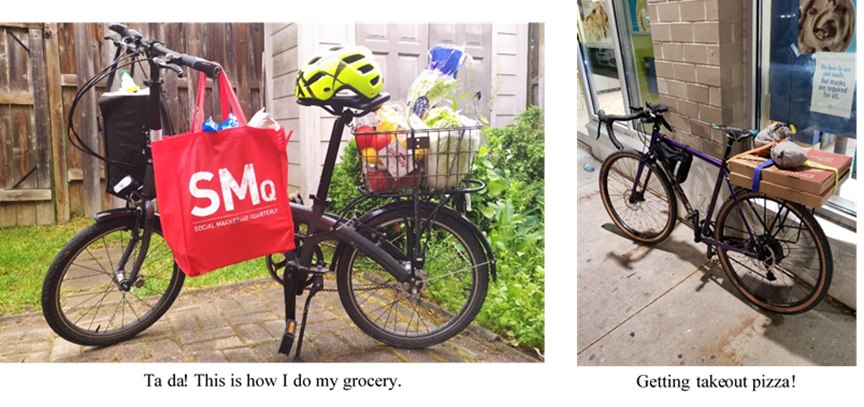 Intracity: Why not carshare?
Occasionally, if a need to go behind the steering wheel arise, except for renting a car, carshare is another affordable choice. There are a few carshare programs available in the KW region, such as Communauto and Enterprise carshare.
Intercity: Carpool & public transit
Carpooling is one inexpensive option that usually works out pretty good for travels between the Waterloo region and the Great Toronto Area (GTA). Carpooling has advantages from different perspectives, one can save the time and the trouble of transits, and make positive contributions to the environment by maximizing use of resource and cutting down environmental impact. Matches for carpool can be done through posts on social media or forums, e.g., Facebook or WhatsApp groups.    
Intercity public transit, i.e., coaches, buses, and train services normally have an explicit student rate. Though some do require an extra registration or verification process, it often worthwhile the trouble if one uses them frequently.
GO transit and Via Rail are the two main train operators providing services in the KW region. If you are to travel with Via Rail, one of the national wide train services, on top of their student fare and pass, try make your purchase on Tuesday, it is when they provide lower fares. GO Transit also operates bus routes 25 & 30 that have frequent service between KW area and the GTA. To get their discount rate for postgraduate students, an online registration and a piece of Presto card is required.
4. Something new, something old? More or less?
Most of us likely make our way to Canada with a few suitcases. To fully settle down and be ready for the famous Canadian winter, there certainly is a lot to do. 
Getting brand new things can be costly. Not to mention, the selling tax (Ontario HST is 13%) will often adds up even more to a new purchase of goods and services. Rather than buying things new, purchasing used items can both save money and be environmentally friendly. There are a lot of online and offline sources to treasure hunt for used goods. Some examples of sites and places are thrift stores, used bookstores, social media & forums, and categorize ad websites, such as Kijiji and Craigslist (E-bay if locates in the US).
New products are sometimes in need for good reasons. Outlets and stores that carry marked-down items are options worthwhile considered before going straight to the branded stores. These places carry goods from department stores or branded companies from their earlier season collections. Although their products aren't the latest trendy selections, they function without problems.
When it comes to daily supplies and needs, buying things in bulk tends to be cheaper on average unit price, which can save you from frequent visits to the stores. However, wholesale purchases can take up too much storage space, or become problematic if unable to use them up before expiry. To address potential waste or storage issues but still wish to save on expenditure, by getting someone to share things and split the cost, a win-win situation can be created! 
5. Review expenditures
Reviewing your expenditure can help figure out where your money went. Even if keeping track of day-to-day expenditure is not possible, a rough review once in a while will do the magic. Apps, bills, and receipts are good helpers to keep track of your expenditure. Try to trace back what was tossed out before used up. Any stuff you barely use after purchasing it. Look over the composition of your monthly spending and assess if you could make adjustments. Going a bit off-topic, but for students in Canada, don't forget to file your tax by the end of April. You can get a tax refund even if you don't make enough to pay tax. 
Moreover, don't forget to keep an eye on those auto-charge or auto-refill lines on your cards or accounts. Are there a number of subscriptions (stream video or music service), or membership fees (e.g., Amazon) you continue to pay for, but are of seldom use? Consider canceling those that are no longer in need.
6. Good timing for saving
Eating out is a lifesaver when you just need to get things going, but again it's pricier over cooking on your own. Some food outlets offer special deals (happy hours) during off-peak time which normally falls in between the main meals time, or sometimes the last couple of hours before the store closes. Purchasing food during these hours not only saves you money, but avoids traffic to wait in lines. This trick also works for grocery shopping, some places will put remaining products of the day for sale at a reduced price.
For those whose utilities aren't covered in your rent and are paying hydro bills directly to your power supplier, being aware of power usage can save you money, too. The hydro charge in KW area defaults with a Time-of-use Rates (TOU) plan. There are times during the day when the charges are cheaper (fig.1). You can save a considerable amount of your bills by wisely planning when to use appliances and adjusting the heating/AC. Also, check out the freshly launched Tiered Rates plan, switch if it fits your household better.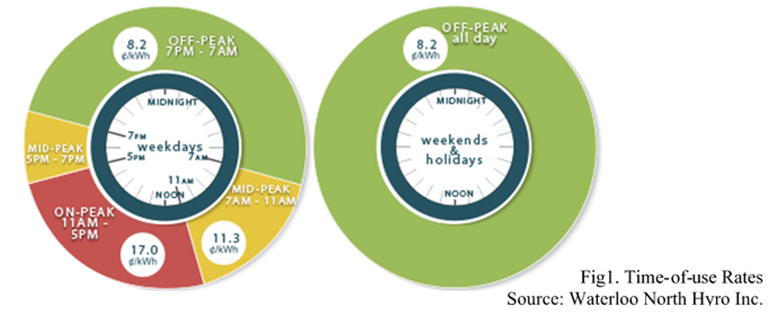 As time gets close to the Christmas and New Year holidays, it is the time for the end-of-year sales! Black Friday & Cyber Monday are days when the big sale season kicks off. Black Friday is the following Friday after the US Thanksgiving (the last Thursday of November) and Cyber Monday is on the first Monday after Black Friday. The sale season typically lasts until another major wave begins on Boxing Day (December 26th) in Canada.
This is a good time of the year to get new appliances; consumer electronics; switch to a new phone or internet plans; and yes, video games as well! However, you'll probably want to keep track of the things you are interested in at least a few weeks ahead, so you are aware of the price differences. This will help rather than entering the game without knowing whether the deal is really a steal.
7. Reach out
As an international student, I learned so much directly or indirectly from others. I appreciated their help and am pleased to have shared some tips here. I encourage international students to reach out to people around and ask for their advice on finance, purchases, or similar needs. Although not all their responses may apply to you, select and absorb those ones that are useful for you.
Reaching out isn't only about financial tips, it can go beyond and extend to all aspects, including diet decisions, accepting a different mindset, changing habits, finding substitute options for a need, and much more. It can often be hard or expensive to get imported goods or keep the exact same lifestyle that you were used to back at home. Try out something new, perhaps you'll love it.
About the Author: Shirley Yang is a newly graduated Master of Sustainability Management. Her master's research was to improve waste management on the University of Waterloo (UW) campus from a sorting behaviour engagement perspective, which utilized the Community-Based Social Marketing framework. The waste signs currently used on the UW campus were the results of her study. The new signage is believed to be more user-friendly than the previous design. Shirley is proud to provide scientific results to support decision-making for a practical need.
Though trying to save every penny, it did not stop Shirley from committing to sustainability. She is excited about opportunities and innovative ideas related to behaviour, technology, and systematic changes to make sustainability easy, convenient, and achievable to more people. Feel free to contact her through LinkedIn or email at yh6yang@uwaterloo.ca.