The GSA-UW is looking for graduate students to represent their fellow peers as a departmental councillor on the GSA-UW Council. Having one student from each department on Council ensures that all departments are being fairly represented and heard by the GSA-UW.
Note: For the Fall 2021 Term, the GSA Council will continue to meet online.
**GSA-UW Councillor Nominations are now closed!**
Departments with upcoming councillor elections (September 27-30):
Accounting & Finance (ARTS)
Master of Digital Experience Innovation MDEI, Stratford (ARTS)
Public Service (ARTS)
Master of Business, Entrepreneurship & Technology MBET (ENGR)
Chemical Engineering (ENGR)
Management Sciences (ENGR)
Departments with vacant councillor positions and no recent nominees:
Anthropology (ARTS) 

Catholic Thought
Classical Studies (ARTS) 

Economics (ARTS)

French Studies (ARTS) 

Religious Studies (ARTS)

Social Work (ARTS) 
Theological Studies (ARTS)

School of Planning (ENV)

Chemistry & Biochemistry (SCI)
Earth & Environmental Sciences (SCI)
Fall Term 2021 Elections Timeline
Step 1
Nominations are closed.
Step 2
Nominees are currently campaigning within their departments.
Step 3
Students will be emailed on Monday, September 27, informing them of the Council elections in their department, along with instructions on how to vote online using Watvote. The voting closes at 5pm on Thursday, September 30.
Step 4
All candidates will be informed of the election results on Friday, October 1. Students can look to the GSA website for the announcement of election results.
Step 5
The Council Speaker will reach out to elected candidates to welcome them to the Council. New councillors are expected to be prepared to participate on Wednesday, October 6 in a councillor training session (3:30-4pm) and the full Council meeting (4-7pm).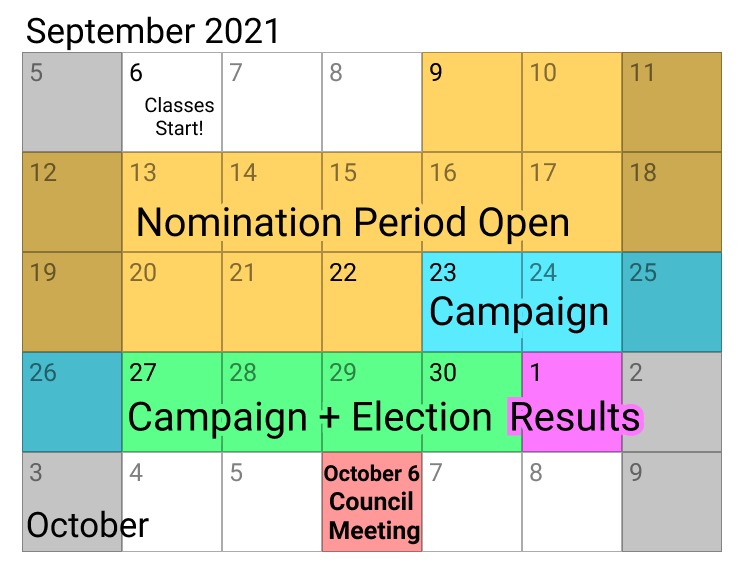 Questions regarding how to get involved in GSA Council can be directed to our GSA Elections Coordinator via email at gsa-elections@uwaterloo.ca.
General inquiries about Council can be directed to our GSA Council Chair via email at gsacounc@uwaterloo.ca.