Smooth Transitioning from the Quarantine Period to Grad Life

By Chien-Chih (Joseph) Chen
July 1, 2021
Landing for a New Beginning
"Congratulations, it's the day to move out!" said the receptionist of the front desk of my quarantine hotel. I could not stop the excitement in my heart. Yes! My wife and I finally arrived in Waterloo after waiting seven months longer because of the pandemic. Now, we could take off in Waterloo like Canadian geese. During the quarantine period, there are many challenges that we met, including (1) meeting the COVID-19 testing requirement; (2) relocating from the airport to the first stopover, moving to the second quarantine place, and then finally arriving in the planned residence after quarantine; and (3) balancing overwhelming academic work and quarantine requirements simultaneously. Fortunately, I overcame all these challenges and not only passed the quarantine smoothly but also produced outstanding academic outcomes. Therefore, today, I would like to share my experience about how to balance isolation requests with academic requirements, and ways to manage both physical and mental health during the quarantine period. Please note that I arrived in Toronto on March 3rd, when the rule was that international travelers had to wait at a designated hotel for the results of their COVID-19 testing results, and if the results were negative, they could leave hotels to another location to complete the rest of 11 days of quarantine. However, the isolation measures would be different if the testing results are positive. In addition, the Government of Canada may unleash quarantine measures in July. I strongly recommend visiting the website of IRCC for the latest information.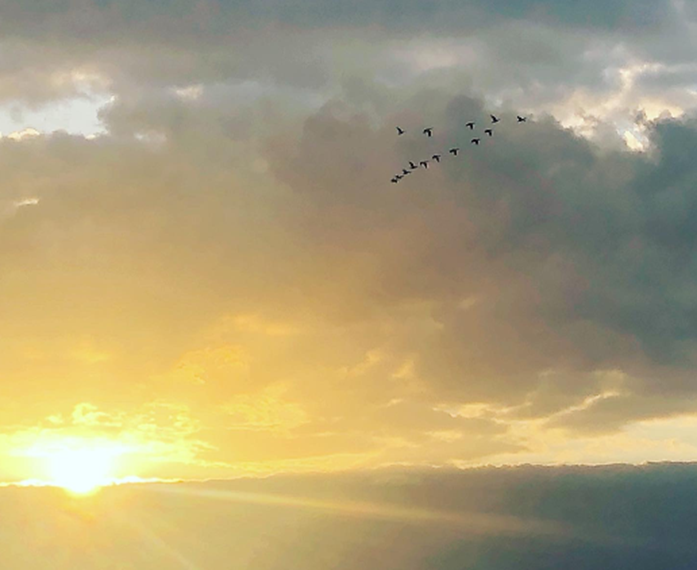 Waterloo Quarantine Package
The Government of Canada announced on March 16, 2021, that travelers who enter Canada must be quarantined    for 14 days. Because Canada faced another pandemic peak around the end of 2020 and the start of 2021, there were strict travel restrictions. Travelers must (1) stay in indicated hotels for three days that are close to the international airports of Toronto, Vancouver, Calgary, and Montreal; and (2) finish the rest of the 11 days of quarantine in another place. Now, if you feel overwhelmed by these rules, there is assistance. For me, it was fantastic to hear that the UW's Student Success Office announced the "Waterloo Student Quarantine Package" to help enrolled students who must travel to Canada. This package, which is offered directly by the University of Waterloo, is eligible for students who enrolled in Winter 2021 or Spring 2021 and will arrive in Canada before July 17, 2021. According to the Student Success Office's website, the latest news shows that this package would be extended for students who will enroll for Fall 2021. Moreover, please remember to contact your department to see whether they could fund your quarantine fee or not.
Be Aware of the COVID-19 Test Deadlines
On day 10 of my quarantine, I must have completed two COVID-19 tests. Only if the testing results are negative, I could meet the criteria to finish my quarantine. The first one was the COVID-19 test home toolkit that I got when I left the airport. I called the nurses online as earlier as possible because there will be tons of people in the queue. It is highly possible that I could not finish the testing if I call them late, and then I would need to wait for one or sometimes several days to leave the quarantine place because of the lack of the COVID-19 negative testing result. Another significant point I noticed is that if Day 10 is on Friday, we should finish our COVID-19 test before lunch. The reason is that the latest time that the shipping company will come to collect our specimen before five pm at the latest, and they do not provide service on Saturdays and Sundays. So, how could one do if we finish our COVID-19 test very late like me? Well, do not panic, I just put the specimen in refrigerators to wait for being collected next Monday. However, sometimes it may delay finishing our quarantine because of the late arrival of results. Secondly, I also booked a seat to take the COVID-19 test at UW's COVID-19 Testing Assessment Centre. Remember to register through the UW Campus Wellness COVID-19 Assessment Registration Form as soon as possible when arriving in Canada. Also, I booked a cab to pick me up at the testing clinic, with the help of the hotel's front desk to make a reservation for delivery service.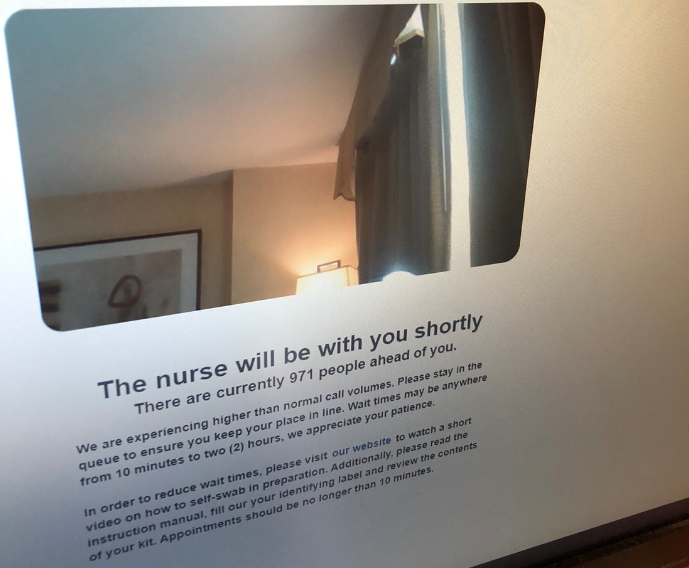 Make Sure You Are Reachable
The Government of Canada may have called us to confirm our physical status during the quarantine period so I made sure that I did not leave my quarantine place. I also made sure my phone was easily accessible to me. Additionally, the government also sent some officers to visit me in person at my quarantine place as a check. Moreover, I made sure to use the ArriveCAN app to report my daily quarantine status.
Need Help? Don't Hesitate to Call Anyone Who Can Give You a Favour
As we all know, all UW's students need to carry out tons of academic works. It's really tough to conduct the tight schedules of assignments or quizzes. Hang on! I would suggest that just contact your instructors and let them know your situation. For example, during my quarantine period, it took me a lot of time to communicate with the government of Canada, so, I did not have enough time to complete my work on one of my assignments before the due date. Fortunately, the professor was so kind to extend the due date of the assignment after I contacted him and let him know my situation. I believe our professors or staffs are so kind enough that they will take care of students very much. Besides, you could certainly contact any students, like me, to get any help. I also firmly believe all UW's students are willing to help each other to pass this severe pandemic. Moreover, I would like to mention that, as a graduate student, you could certainly let your supervisor anything you need, he or she will absolutely deliver anything you need.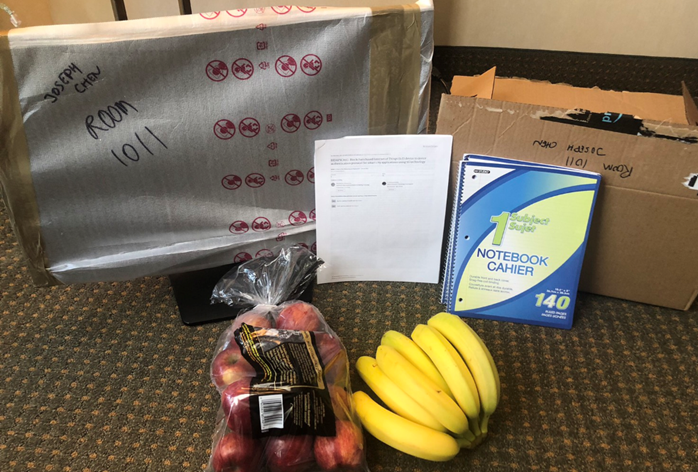 Maintaining Wellness During the Quarantine Period
Keeping mental health is important to people who are in the quarantine period. My approach was simple: I did exercise to make myself relax. During my quarantine period, after lunch and dinner I would follow some Zumba, Yoga, or Fast-walking videos online which is around 30 minutes per time. Sweating during exercise makes me feel comfortable and relieves the stress that is from staying in quarantine. Although we were not allowed to go out for buying groceries, I keep connected with my classmates, family members, and friends virtually. Seeing and chatting with someone that I am familiar with always benefits me in receiving updates of outside environment. Besides, Canada has many gorgeous themes that we must visit. Therefore, during the quarantine period, I also prepared my travel plan regarding all the fantastic places I would like to go after my quarantine. I firmly believe people will pass their quarantines if they try those activities that I did.
If you are an engineering student, I recommend that you join the ENGWellness program. In such programs, they hold many activities to let you meet others, talk to each other, or play online games. Continue to contact others online during the quarantine period to be engaged as well as to maintain connections. I hope my tips could assist you to pass your quarantine more smoothly. Don't forget, we are always here to support each other as UW Warriors.
About the Author:
Chien-Chih (Joseph) Chen (he/his) is a PhD student in Electrical & Computer Engineering, Faculty of Engineering. Before he joined the University of Waterloo, he led three teams to develop banking systems in one of Taiwan's emerging banks. Also, he collaborated with Microsoft Taiwan to develop a medical system. His doctoral research is mainly related to Blockchain, and he is also interested in IoT, Edge Computing, Security, and AI. Joseph also volunteers to be a mentor of new graduate students in his department and the Taiwan Global Ambassador of UW's Office of Advancement. He is keen to assist new graduate students in transit to UW's life smoothly and facilitate other students to explore their future careers. 
Please free to contact him through LinkedIn or email (j2255che@uwaterloo.ca) and add his Linkedin: https://www.linkedin.com/in/chien-chih-joseph-chen-685a9261/
Tips on How To Stay on Budget

By Shirley Yang
June 4, 2021
Studying abroad can be extremely expensive for many international students due to the higher tuition fees and the living cost. That being said, I believe I'm not the only one who always tries to spend a loonie like a toonie (these are 1 and 2 CAD, respectively!) Therefore, I'd like to share some tips that worked for me on my everyday expenses. These ideas might not save you a whole lot at once, but many a little makes a mickle!
1. International STUDENTS?
Don't miss out on offers exclusively for students! Get the most value out of your student identification. A wide variety of stores provide student specials with your student identity. To name a few, conference registration fees, entrance tickets, computers & laptop deals, bank accounts, phone plans, software subscriptions, and online memberships can have student-discounted rates.
Even though these student-only offers are generally good value in price, do mindfully evaluate based on personal need. Perhaps, other available promotions suit you better, or the student options have more restrictions that bring unwanted inconvenience.
2. Grocery shopping
The list of why (international) students cook their own food is endless. The very first one on my list is to SAVE more! Before jumping right into the topic of how to save on grocery for your cooking, identifying the features of different stores is helpful. In most cases, there are stores on the higher end, and some others with more budget choices. On top of that, stores at relatively convenient locations or in close distance tend to be pricier. Moreover, some stores have a better "international" section that carries essential ingredients to replicate your taste of home.
TLDR. If you can simply access the stores with lower prices, great! However, if you have preferred stores that aren't the cheapest option, you can try to find out whether a student discount is available and combine benefits from their membership program if possible. This can at least narrow down the price gap even if it's not the cheapest option available and can gain a reasonable saving on your grocery bills. BTW, highly recommend not to do grocery shopping while hungry.
You might be familiar with checking weekly flyers for products on sale and making a grocery list as it seemed to be an intuitive and classic way of saving. Although this can save a considerable amount on one's grocery budget, it's quite a lot of work.
Checking flyers become so much easier for me when I came across apps that provide collective digital flyers and a paperless grocery list function. I personally use "Flipp" and love how it optimized my routine grocery shopping. It allows me to browse through all flyers together and make comparisons between them effortlessly. I can then decide which store has the best combination of products that interested me this week. The time that took me to put together a grocery list decreased by much, because an e-grocery list is generated simply by tapping the flyers on my devices.
Believe it or not, certain grocery stores offer student discounts on designated days. The discount normally works by showing your student ID to the cashier, and sometimes requires a membership card, which is often free and easy to apply for. For example, 10% off on your purchase every Tuesday at Sobeys and Zehrs in Kitchener-Waterloo (KW) are and every Wednesday at Bulk Barn.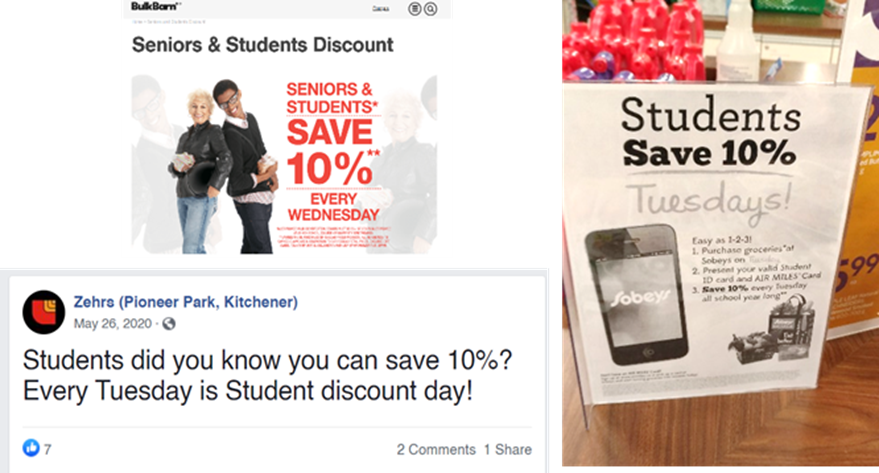 Membership and reward programs
Many grocery stores have their own membership system, and often run a rewarding program based on it. These memberships are mostly free and easy to apply for. Members can often get exclusive promotions, redeem benefits, or cash backs on their future bills.
In fact, this trick applies to may general consumptions. It is possible to redeem yourself a plane ticket to go home with aviation reward programs. For your to-go brands, you can also go advance and get their apps, follow their social media, subscribe for newsletter and promotion texts. However, make sure you don't drown yourself in a flood of these notifications, it's easy to soon go numb and become insensitive with these stimulators, then end up with reverse effects.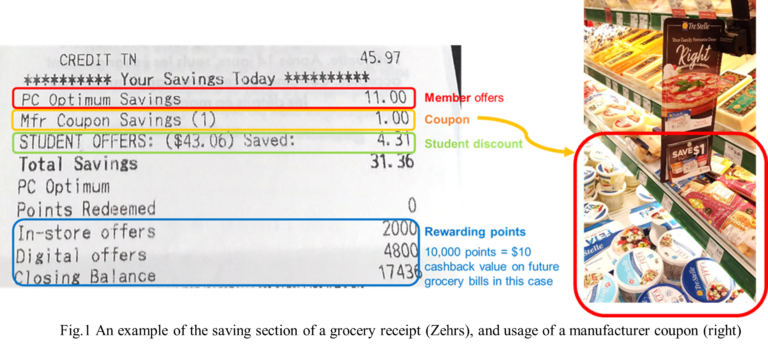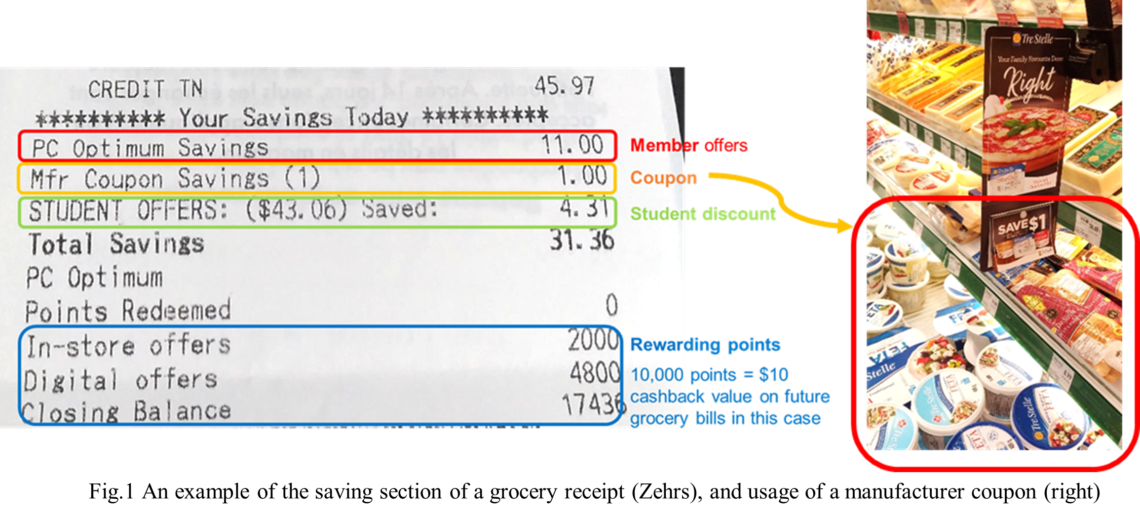 3. On your way?
Owning a car is a common solution for travel and commuting in North America. Whereas, from an individual student perspective, owning & maintaining a vehicle is a big commitment in terms of budget and effort. There are some exciting commute ideas that may help to keep up the budget but still allow one to move around economically.
Biking can be a great alternative for individuals to get around and move between buildings on campus. A good balance can be achieved by combining biking and the public transit system. This can free you from restricted by the public transit schedule and crowdedness during rush hours. Biking also brings more mobility and capacity of carrying more stuff compared to walking.
Broadly speaking, public transit in Ontario is pretty  bike-friendly, you can either bring your bike on board  or place it on bike racks. UW Bike Centre has some useful information about cycling in the town. What's more, biking is also a healthy way to destress and enjoy the nature while keeping social distancing.  (Don't forget to wear a helmet and LOCK your bike!)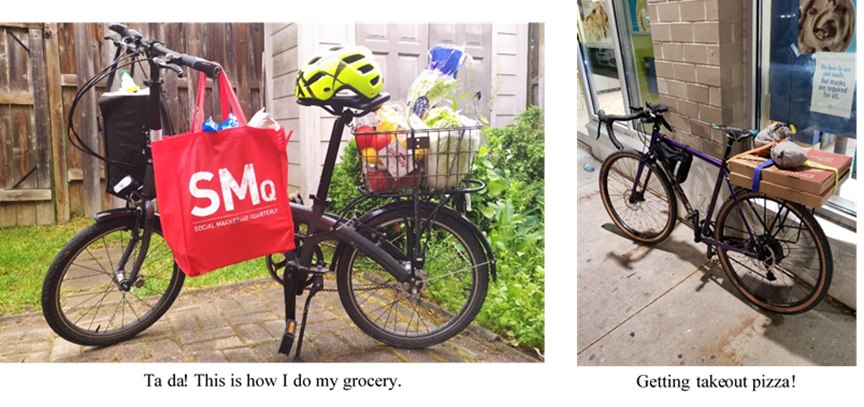 Intracity: Why not carshare?
Occasionally, if a need to go behind the steering wheel arise, except for renting a car, carshare is another affordable choice. There are a few carshare programs available in the KW region, such as Communauto and Enterprise carshare.
Intercity: Carpool & public transit
Carpooling is one inexpensive option that usually works out pretty good for travels between the Waterloo region and the Great Toronto Area (GTA). Carpooling has advantages from different perspectives, one can save the time and the trouble of transits, and make positive contributions to the environment by maximizing use of resource and cutting down environmental impact. Matches for carpool can be done through posts on social media or forums, e.g., Facebook or WhatsApp groups.    
Intercity public transit, i.e., coaches, buses, and train services normally have an explicit student rate. Though some do require an extra registration or verification process, it often worthwhile the trouble if one uses them frequently.
GO transit and Via Rail are the two main train operators providing services in the KW region. If you are to travel with Via Rail, one of the national wide train services, on top of their student fare and pass, try make your purchase on Tuesday, it is when they provide lower fares. GO Transit also operates bus routes 25 & 30 that have frequent service between KW area and the GTA. To get their discount rate for postgraduate students, an online registration and a piece of Presto card is required.
4. Something new, something old? More or less?
Most of us likely make our way to Canada with a few suitcases. To fully settle down and be ready for the famous Canadian winter, there certainly is a lot to do. 
Getting brand new things can be costly. Not to mention, the selling tax (Ontario HST is 13%) will often adds up even more to a new purchase of goods and services. Rather than buying things new, purchasing used items can both save money and be environmentally friendly. There are a lot of online and offline sources to treasure hunt for used goods. Some examples of sites and places are thrift stores, used bookstores, social media & forums, and categorize ad websites, such as Kijiji and Craigslist (E-bay if locates in the US).
New products are sometimes in need for good reasons. Outlets and stores that carry marked-down items are options worthwhile considered before going straight to the branded stores. These places carry goods from department stores or branded companies from their earlier season collections. Although their products aren't the latest trendy selections, they function without problems.
When it comes to daily supplies and needs, buying things in bulk tends to be cheaper on average unit price, which can save you from frequent visits to the stores. However, wholesale purchases can take up too much storage space, or become problematic if unable to use them up before expiry. To address potential waste or storage issues but still wish to save on expenditure, by getting someone to share things and split the cost, a win-win situation can be created! 
5. Review expenditures
Reviewing your expenditure can help figure out where your money went. Even if keeping track of day-to-day expenditure is not possible, a rough review once in a while will do the magic. Apps, bills, and receipts are good helpers to keep track of your expenditure. Try to trace back what was tossed out before used up. Any stuff you barely use after purchasing it. Look over the composition of your monthly spending and assess if you could make adjustments. Going a bit off-topic, but for students in Canada, don't forget to file your tax by the end of April. You can get a tax refund even if you don't make enough to pay tax. 
Moreover, don't forget to keep an eye on those auto-charge or auto-refill lines on your cards or accounts. Are there a number of subscriptions (stream video or music service), or membership fees (e.g., Amazon) you continue to pay for, but are of seldom use? Consider canceling those that are no longer in need.
6. Good timing for saving
Eating out is a lifesaver when you just need to get things going, but again it's pricier over cooking on your own. Some food outlets offer special deals (happy hours) during off-peak time which normally falls in between the main meals time, or sometimes the last couple of hours before the store closes. Purchasing food during these hours not only saves you money, but avoids traffic to wait in lines. This trick also works for grocery shopping, some places will put remaining products of the day for sale at a reduced price.
For those whose utilities aren't covered in your rent and are paying hydro bills directly to your power supplier, being aware of power usage can save you money, too. The hydro charge in KW area defaults with a Time-of-use Rates (TOU) plan. There are times during the day when the charges are cheaper (fig.1). You can save a considerable amount of your bills by wisely planning when to use appliances and adjusting the heating/AC. Also, check out the freshly launched Tiered Rates plan, switch if it fits your household better.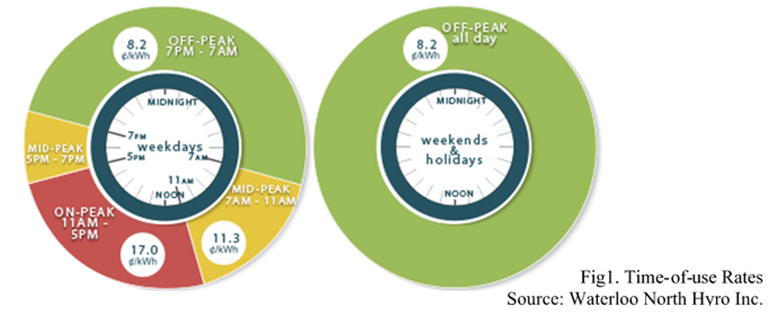 As time gets close to the Christmas and New Year holidays, it is the time for the end-of-year sales! Black Friday & Cyber Monday are days when the big sale season kicks off. Black Friday is the following Friday after the US Thanksgiving (the last Thursday of November) and Cyber Monday is on the first Monday after Black Friday. The sale season typically lasts until another major wave begins on Boxing Day (December 26th) in Canada.
This is a good time of the year to get new appliances; consumer electronics; switch to a new phone or internet plans; and yes, video games as well! However, you'll probably want to keep track of the things you are interested in at least a few weeks ahead, so you are aware of the price differences. This will help rather than entering the game without knowing whether the deal is really a steal.
7. Reach out
As an international student, I learned so much directly or indirectly from others. I appreciated their help and am pleased to have shared some tips here. I encourage international students to reach out to people around and ask for their advice on finance, purchases, or similar needs. Although not all their responses may apply to you, select and absorb those ones that are useful for you.
Reaching out isn't only about financial tips, it can go beyond and extend to all aspects, including diet decisions, accepting a different mindset, changing habits, finding substitute options for a need, and much more. It can often be hard or expensive to get imported goods or keep the exact same lifestyle that you were used to back at home. Try out something new, perhaps you'll love it.
About the Author: Shirley Yang is a newly graduated Master of Sustainability Management. Her master's research was to improve waste management on the University of Waterloo (UW) campus from a sorting behaviour engagement perspective, which utilized the Community-Based Social Marketing framework. The waste signs currently used on the UW campus were the results of her study. The new signage is believed to be more user-friendly than the previous design. Shirley is proud to provide scientific results to support decision-making for a practical need.
Though trying to save every penny, it did not stop Shirley from committing to sustainability. She is excited about opportunities and innovative ideas related to behaviour, technology, and systematic changes to make sustainability easy, convenient, and achievable to more people. Feel free to contact her through LinkedIn or email at yh6yang@uwaterloo.ca.
Building Connections and Working at Start-Ups

By Shu-Feng Tsao
May 7, 2021
After spending 5 years in the United States for my two master's degrees and work, I started my PhD program in Fall 2020 at the University of Waterloo. I had to start my program remotely since my study permit approval came the day after Canada closed its borders on March 18, 2020 due to the COVID-19 pandemic. Although it was disappointing to hear that I wouldn't be able to immediately study physically in Canada, this experience did remind me of times when I had to be flexible and open-minded. In fact, I rarely imagined that I'd work for a start-up, followed by joining a new team within a health insurance corporation after I graduated from my second master's in the US. As international students, we generally face additional challenges to secure jobs. Therefore, working for a start-up appeared to be a good option because in my experience, they are generally more flexible and open-minded when it comes to hiring international students as compared to big companies. Now, where should we start if we want to step into the world of start-ups?
How to build connections with start-ups
During my first master's in nutrition, I realized word choices truly make a big difference. For example, I once recommended "exercise" for weight loss for a patient, but they immediately linked "exercise" with something physically demanding. As a result, they were less willing to even consider starting to go for a 10-minute walk twice a week. However, if instead I recommended "physical activity", I noticed that patients would be more willing to try the walking regimen. Similarly, if the term "networking" sounds very stressful to you, looking and approaching it from a different perspective can help. Consider "networking" as "building connections" or "making friends" with start-ups, without feeling the pressure of "networking" with them before you're actually in the job market. Starting from someone close to you, and gradually expanding to others outside your close circles is one way to do this (Figure 1).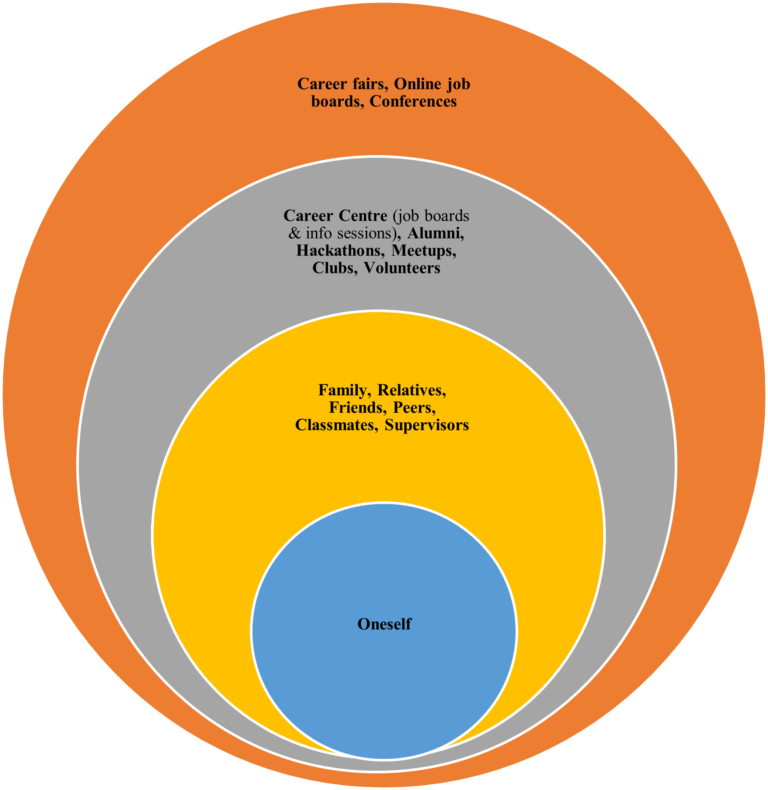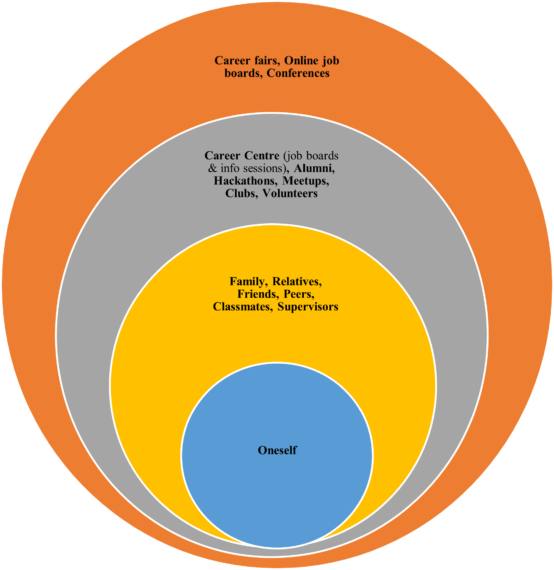 Start with friends, family, and relatives

 
These are relatively close connections that we already have and know us well, so it's easier to start with them to have casual conversations and explore what start-up opportunities they know in their networks. Perhaps your parents are actually investing in a start-up, but you don't know because you have never asked. Perhaps one of your friend's cousin or aunt is working for a start-up of your interest. You can therefore request an informational interview, a conversation in which we seek insights on a career path, an industry, a company and/or general career advice from someone with experiences and knowledge in the areas of interest. It can be done informally as a coffee chat, but it requires some preparations like we do for job interviews. However, this time is we the students that actively ask questions.
Build and maintain good relationships with your peers, classmates, and supervisors
At the graduate student level, it's common to have several part-time students in your cohort or classrooms. If you have a chance to work with any part-time student for a group project or other assignments, stay connected with them even after the project or course is over. While part-time students are usually very busy because they have a full-time job, they may be exposed to start-up opportunities that are not under your radar. Perhaps their organization is under restructure to create new teams (like a start-up within a corporation). Likewise, your supervisor may be a founder or co-founder for a start-up, or your peers and classmates may want to initiate a start-up based on their research. You never know what surprises you would get from them.
Use the Centre for Career Action resources
Job postings and employer info sessions are great resources for people interested in start-ups. It's likely that when you Google a company's name, you might realize that they are a start-up. Besides, these start-ups tend to have a close tie with the university because their early employees or founders are alumni. The CCA's workshops are also helpful in addition to their one-on-one appointments.
In addition to the university-wide alumni events, each program or faculty may have their own events to connect current students with alumni. Participate in these sessions and connect or follow-up with alumni on LinkedIn or email afterwards. You can also check where they work and conduct informational interviews after you establish such connections.
Participate in extra-curricular activities
Volunteering, participating in hackathons, joining clubs, and many other activities are great ways to expand our connections. Hackathons are especially useful if one is very interested in entrepreneurship and start-ups. Perhaps you might be afraid of joining a hackathon because you feel that you can't contribute anything due to lack of knowledge? No worries! My advice is to just give it a try. You can start with attending their networking hour only to talk with entrepreneurs without really joining its competition and this would be completely acceptable. In fact, it's common to see a good portion of participants who registered for a hackathon later to show up just to enjoy free drinks, food, and networking. During my second master's, a hub that helps foster start-ups was right across the street from my campus. Since it was so convenient, I basically stayed for many weekends and evenings for its events and hackathons. It was an eye-opening and fun experience to talk and work with smart and inventive people.
How to get a start-up job
Before we get serious about working for a start-up, one needs to recognize at least two facts. One is that start-up salaries are generally not as high as big corporations, even though start-ups can successfully receive millions of investments. If you want equity, like shares of the start-up, you'd receive even less salary. The other fact is that usually a start-up career is not a typical 9 to 5 job. Therefore, if a person wants a good work-life balance it might be more difficult to maintain working for start-ups. If these two facts don't push you away, here are some tips for you to get a job in start-ups:
If you have successfully established your connections described in the previous sections, simply let your networks know that you're looking for job opportunities. You can inform your networks as early as 1 year before you graduate or really step into the job market. If you already have a list of start-ups that you would like to work for, reach out to them early.
Apply for jobs available on Centre for Career Action's WaterlooWorks, info sessions, and career fairs. If an employer is actively involved in such campus recruitment at our university, it definitely signals that this opportunity is something that we should take advantage of. In fact, I got several job offers a month before my graduation from my second master's degree because I applied for jobs via the school's job board. I eventually chose to work for a start-up.
Apply for jobs available online. LinkedIn and Indeed are probably the most common platforms that people search and apply for jobs. However, start-up jobs are often posted elsewhere on lesser well-known websites, such as AngelList. Although it's common to apply for a job via these online platforms, you can make yourself stand out if you can add a referral in addition to a customized resume and cover letter. A referral means an employee within the company agrees that you can put their name as a referral on your application. This is like a recommendation letter from your supervisor without a real letter.
Keep networking while applying for jobs. Like learning or connection building, networking is a life-long activity that shouldn't stop, but one can change our focus intensity. That is, we should choose and participate in events with a job-searching purpose more frequently. For instance, we can still attend info sessions like we previously did. However, instead of trying to build connections, this time one should look for a job seriously and ask questions about the job opening.
Start your own start-up. This may scare many people when they first hear this. However, if you already want to work in a start-up, why not be your own boss? Why not consider brushing up on your own clever ideas or research? You can also collect ideas from your friends or colleagues and come forward as a team. Our university has been very supportive to foster innovations and bring research to commercialization by offering many opportunities such as Concept 5K, coaching, and other funding from Concept UWaterloo.
Although how to start one's own start-up is beyond the scope of this blog, I'm interested in connecting and knowing stories from anyone who wants or has previously worked with start-ups. I hope this blog will help any graduate students especially international students like me who want to pursue a start-up career.
About the Author: Shu-Feng Tsao (she/her) is PhD student in Public Health Science, Faculty of Health. She stayed in the United States for 5 years to earn two master's degrees and work in a start-up and a global health insurance company. Currently her doctoral research focuses on health informatics, especially about social media infodemics by analyzing social media data using machine learning and AI. She also runs a journal club/interest group about digital health. Please feel free to connect with her on LinkedIn or email (s7tsao@uwaterloo.ca).
By Meryem Chahboun
April 16, 2021
It's 5:30 pm and I just recognized my mother among the waves of parents coming to pick up their children from school. On this rainy evening of late September, my mother is visibly stressed and annoyed with the weather. We head to the main street to catch a taxi. I want to tell her about this new recipe I invented but she is not listening. It is a dire struggle to catch any form of transportation on  the very first rainy day of the season.
On October 26th, 2019, twenty years later, she is six thousand km away, in Morocco, and I just woke up to this: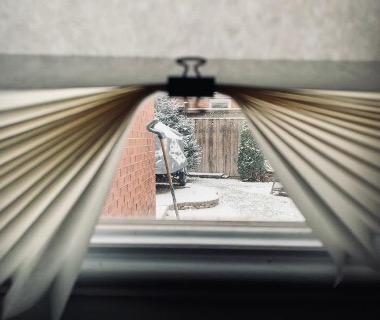 A little less than three months ago, I moved over to Canada with a newcomer's dread: the first snowfall announcing infamous Canadian winter. It's fifteen to nine and I need to leave in order to make my 9 am class but this clearly surpasses my priorities. This is the day I have been gearing up for the past months. I have seen snow four times in the past and have experienced negative temperatures only once – this is definitely a big day for me. I run back down the stairs into my basement apartment, changed my shoes, put on a "head heater", a pair of gloves, and a wool scarf. I should be okay… And I was.
Don't get me wrong, my apprehension was justified. It was cold, the vicious wind felt like it was targeting my bones underneath the layers of insulation I was wrapped in; and a few days later the roads became icy, and I regularly fell miserably to my misfortune.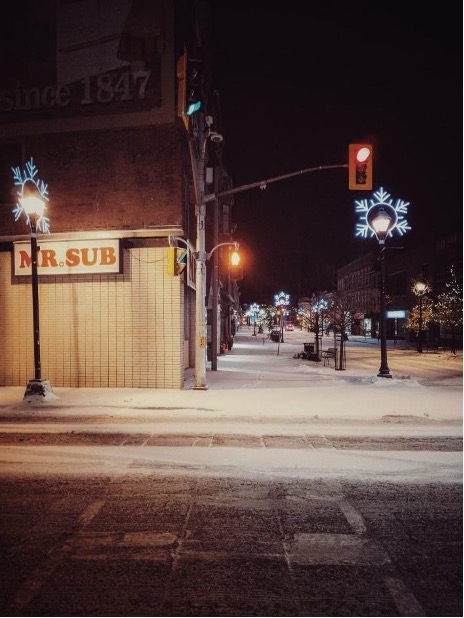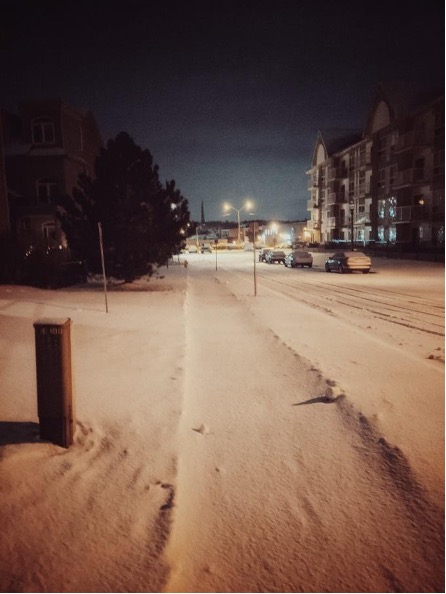 But it was not too bad. I quickly learned to translate degrees Celsius in layers of clothing, a quick look outside gave me the hint for footwear, and the speed of wind directed my choice of accessories. I even learned to appreciate the poetics and dynamics of winter, started looking forward to the holidays, adapted my hobbies, took up skiing, and made friends to play board games with on cold winter nights.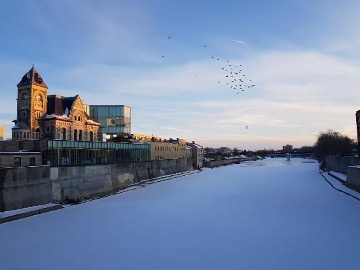 Nevertheless, there are a few things I wish I knew…
Most of the Canadian population lives South of Milan (David Taylor, 2015)
The University of Waterloo – together with all its satellite campuses – is located in Southern Ontario. To put things in perspective, have a look at this map lining up some global landmarks with major Canadian cities using their latitude. It looks like winter in the Kitchener-Waterloo-Cambridge region and the Greater Toronto and Hamilton Area can't realistically be too bad! Well, perhaps a bit chillier than a cold Parisian winter then…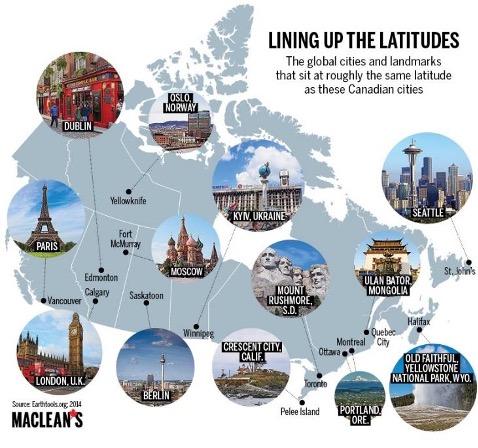 It's rarely below -10° C, and when it is it pretty much feels the same
The key is to adjust how you interact with your environment rather than treating it like a permanent threat you need to protect yourself from. For instance, time when you leave your house  to spend as little time as possible, waiting for transit, work out logistics with friends or relatives who own a vehicle for some carpooling when you need to go to the store, and planning to take your trash out during the most favorable outside temperature… The bottom line is, the longer you stay outside in the cold, the more preparation you need. I prefer to look at it this way rather than the generic "it's cold in Canada, you need an expensive down coat". Though, I am not advising you to stay indoors the entire winter season. Rather, I am inviting you to reflect and better manage your movements in a new environment you are still getting used to.
Understand how insulation works
Having come to Canada as an architecture graduate student, I took a selection of courses during my first term at the University of Waterloo, School of Architecture, that introduced me to the Canadian building culture and especially the technical aspect behind it. The course that taught us the design of high-performance enclosures for cold climates was, in many regards, very useful, especially to internationals.
Seal good, seal strong
Like the layering of environmental barriers within a wall, go shingle fashion. Meaning, have your coat run over your pants covering the junction, and then have your pants run over your boots protecting the junction. Junctions are the meeting point of two element's material. They are known in building science for being the weakest spots that need to be safely sealed using different methods including the "shingle fashion".
It's all about the foundation.
Keep your feet warm. Insulating your footing is primordial to your well-being during winter as we insulate the building foundation from frozen soil. 
Layer up… smart
Heating does not work like most people think it does. In fact, it is less about the heat flow generated and more about keeping the said heat where we want it to stay, by preventing it from "escaping" from weak spots. In buildings, these are windows and glazed areas while in clothing, the weakest spots are again, the junctions. Therefore, insulating and perfectly sealing the seams is important and preserves the generated heat in your body. With that in mind, if you will be active outside, walking or practicing a physical activity, you might need fewer layers than if you were to stay static waiting in an outdoor line.
Understanding the materials
Some brands offer technical fabrics with specific features and novel technologies. While those are worth trying, they are not vital. Moreover, sometimes their price point keeps them rather inaccessible for most students. Nevertheless, materials are important especially if you plan on living in Canada for an extended period and would like to try some of the winter activities. For example, investing in good ski gear. Many of the items will often come in handy. Snow pants and snow gloves are particularly versatile, and extremely useful to have. This will broaden the spectrum of activities you can engage in during winter from hiking to tobogganing and tubing.
Essentials vs nice-to-have: Identify the differences
While keeping in mind the above and building up your own strategy as you go is enough for you to enjoy Canadian winter, there are some fun, more sophisticated gadgets out there worth checking out: tech-friendly gloves will spare you the unpleasant feeling of frozen fingers while quickly using your phone in the cold, electric footwear dryer will keep your shoes dry and cozy for you, and traction footwear with metal grips will prevent some of these ridiculous falls on icy sidewalks. Not all of them; because you do need a solid collection of those to build YOUR Canadian Winter story!
All in all, you will figure it out and you WILL NOT freeze in the process!
Cheers,
Meryem Chahboun
The Grad Student Adventurer Blog Launch:
Introducing our Blog Editor, Navya Nair, and Post Topics
By Navya Nair, GSA International Student Coordinator
February 4, 2021
As we continue through the ongoing COVID-19 pandemic, more than ever are we feeling the pressures of staying inside, being away from family and friends, and having it affect our studies and daily habits. Lately, the stress of being indoors has made me think about a similar time when I faced hardship, and more importantly, how I found strength. This was right before Fall 2019, when I made a life-changing decision to relocate from Kerala, India to Waterloo.
My thoughts stretch back to a hectic time of accepting my offer to the University of Waterloo for a Masters in Sustainability Management and how life changed shortly after. One moment I was working at the Indian Institute of Water Management as a Senior Research Assistant, the next I was with my parents for a short vacation, and soon I was landing at Pearson International Airport. At the time, it didn't matter how busy the days were; all I could think of was being happy about my admission.  However, just like the end of most magical moments, reality hit hard and I found myself struggling to transition from my comfort zone to a completely new place. I felt anxious, even though I was looking forward to what Waterloo was going to bring to my life.
My mind drifted back to when I felt uncertain about accepting the offer of admission. I had so many questions flooding my mind: Should I leave my home and friends to start a new life for a promising degree, or should I stay in the comfort of my home and familiar surroundings? What if I can't make friends or complete my studies well? All my life my mother fed me delicious food; how will I cook on my own?  On top of these concerns, I had worries about my finances as I did not have enough funds to pay for educational expenses. It was definitely not an easy decision for me to make at that time.
Let's now fast forward to present day and everything I have gained by in the end, making the choice to come to Waterloo for my studies. I am now one and half years into the program and have found my courses to be exciting and fulfilling. Through my graduate thesis work, I was able to integrate my engineering background with social science.  I had a great time with my classmates, most of which were international students from diverse parts of the world. I remember the GSA-UW Graduate Fall 2019 Orientation well as it was a time where I met most of my friends. I miss those days where we'd meet at the Student Life Centre and the Graduate House after our classes.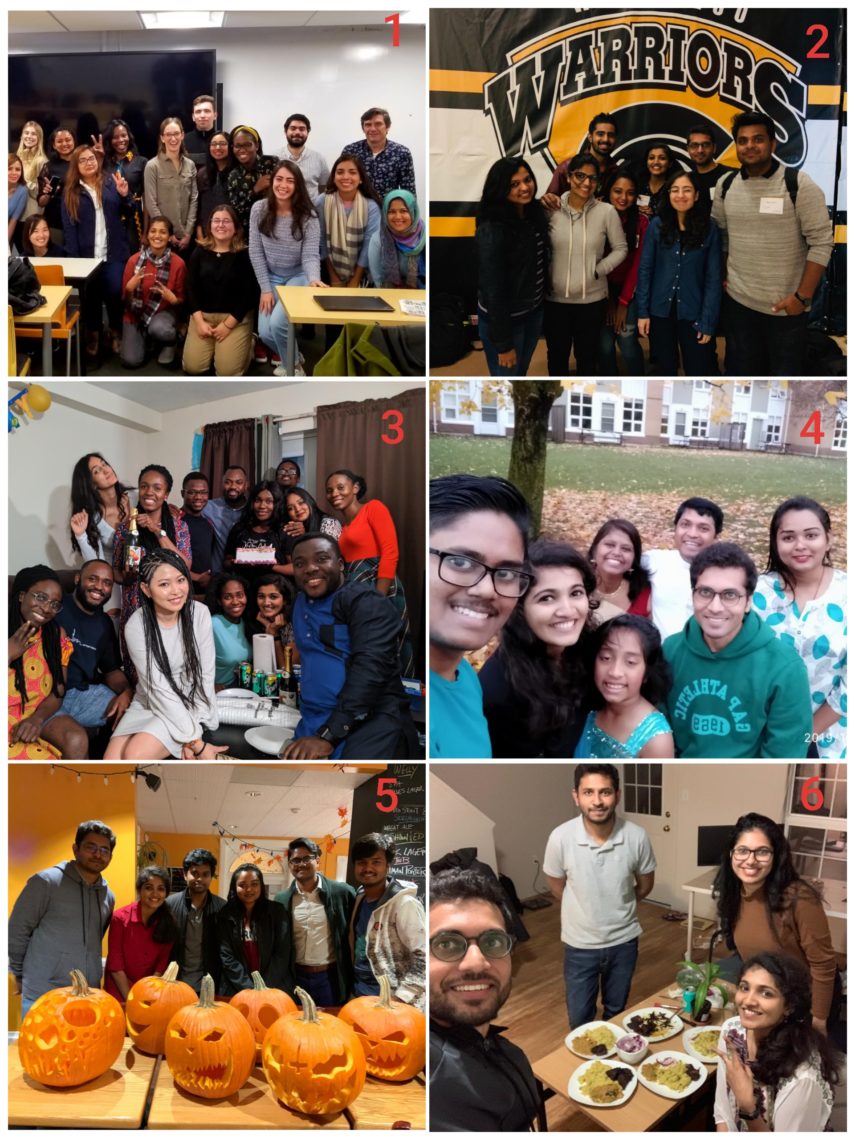 1-My classmates; 2-GSA Fall 2019 Graduate Orientation; 3-Friend's Birthday Get-together; 4-Small gathering at CLV for celebrating Indian festivals; 5-Pumpkin Carving at Grad House Fall 2019; 6-Relaxing by cooking authentic Indian food on weekends.
My stay in Columbia Lake Village (CLV), our university's graduate and student family housing, was attractive. I could engage with a townhouse community filled with students and families from all over the world. My close friends here are more like family and have created my home away from home. My life has been made more enriching and enjoyable because of them.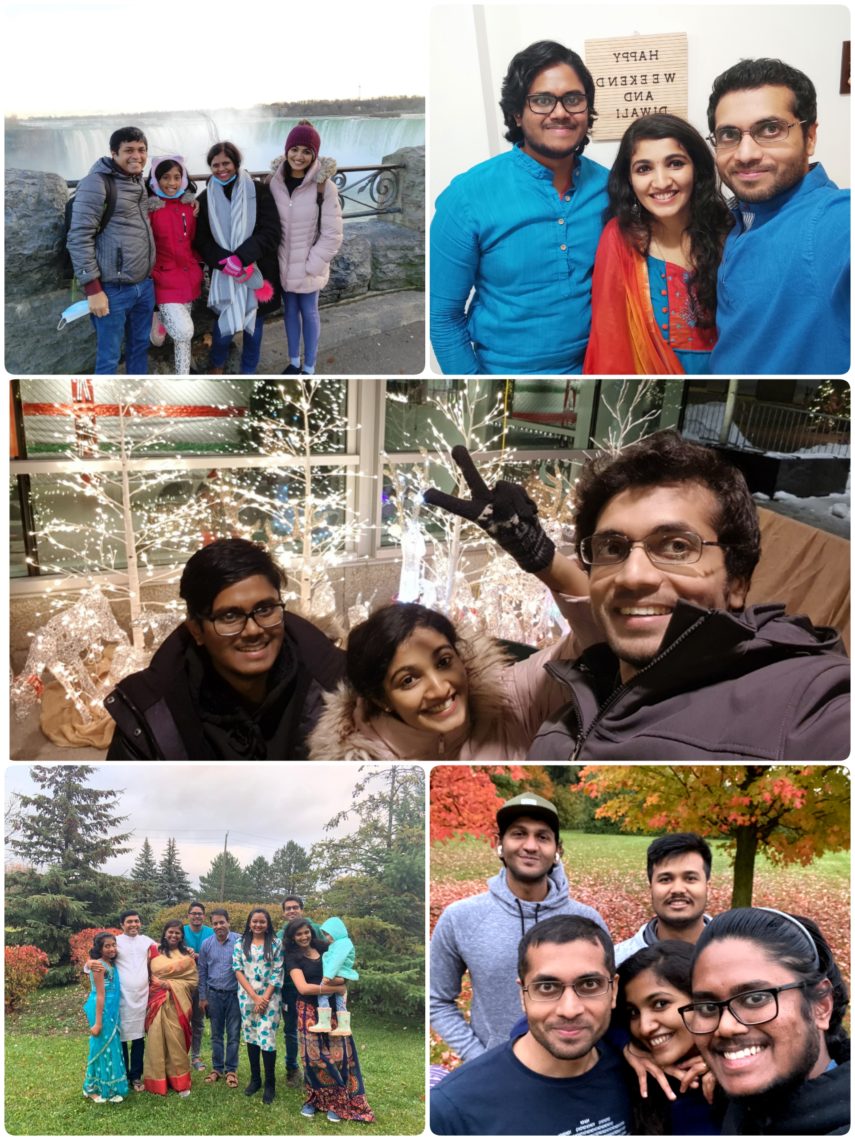 Although it wasn't clear at the time, I am definitely certain now that I made the right choice to take up a degree here in Waterloo. It isn't to take away from the hardships and difficulties I faced at first, there was a lot to learn in terms of culture and studies, and at times it was lonely too. However, I've never regretted my decision. What I found is whether we like it or not, we all have to make some important decisions at some points in our lives as they allow us the opportunities to grow as a person by adapting and adjusting our life strategies. On the whole, all of this reflecting has left me with the conclusion that sometimes you do just have to take a bit of risk in life to progress which worked for me, even if I had to fight a lot with my inner self. To me, it matters less on what you decide but once you have decided you make the best of it, wherever it may take you. These ideas are what pushes me forward throughout the pandemic and I hope it gives you some comfort as well.
By being an international student myself, I understand how it feels to move to a completely new location and have experienced the ups and downs of going through this journey. For this reason, I took up the role of International Student Coordinator with the GSA-UW to help our international graduate students to smoothen the transition and connect with the University especially during this pandemic. We hope that our "Grad Student Adventurer" blog will connect and build a strong international graduate student community by sharing experiences and helping one another through tips and advice. I encourage every graduate student to explore, ask questions, connect, and use the resources that are offered to you. The "Grad Student Adventurer" will feature topics covering culture, life, career, studies, and resources:
Culture: Featuring both adjusting and learning about the Canadian lifestyle and getting to know the vibrant cultures of our international graduate students.
Life: Tips and experiences on a wide range of subjects, including budgeting and finances, housing, family and care-giving, planning to settle in Canada, and wellness.
Career: Topics related to career development, such as tips on finding a start-up or company to work at.
Studies: Advice related to the international graduate student study and research experience.
Resources: A page filled with resources specific to international graduate students at the University of Waterloo.
The "Grad Student Adventurer" is written by and for graduate students. I look forward to reading about the tips and experiences that you'll have to share…perhaps we'll hear your story about making life-decisions like mine and how you're working through the pandemic.

If you have an interest in writing a blog post or would like to request a post topic, send me an email at gsa-international@uwaterloo.ca.

Hope to hear from you soon and that you'll get a lot out of this blog!