It's 5:30 pm and I just recognized my mother among the waves of parents coming to pick up their children from school. On this rainy evening of late September, my mother is visibly stressed      and annoyed with the weather. We head to the main street to catch a taxi. I want to tell her about this new recipe I invented but she is not listening. It is a dire struggle to catch any form of transportation on  the very first rainy day of the season.
On October 26th, 2019, twenty years later, she is six thousand km away, in Morocco, and I just woke up to this: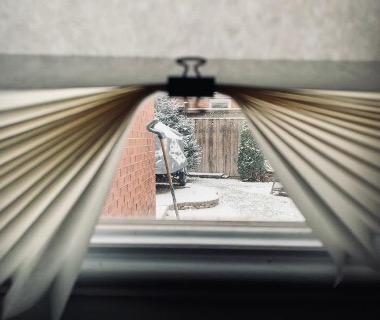 A little less than three months ago, I moved over to Canada with a newcomer's dread: the first snowfall announcing infamous Canadian winter. It's fifteen to nine and I need to leave in order to make my 9 am class but this clearly surpasses my priorities. This is the day I have been gearing up for the past months. I have seen snow four times in the past and have experienced negative temperatures only once – this is definitely a big day for me. I run back down the stairs into my basement apartment, changed my shoes, put on a "head heater", a pair of gloves, and a wool scarf. I should be okay… And I was.
Don't get me wrong, my apprehension was justified. It was cold, the vicious wind felt like it was targeting my bones underneath the layers of insulation I was wrapped in; and a few days later the roads became icy, and I regularly fell miserably to my misfortune.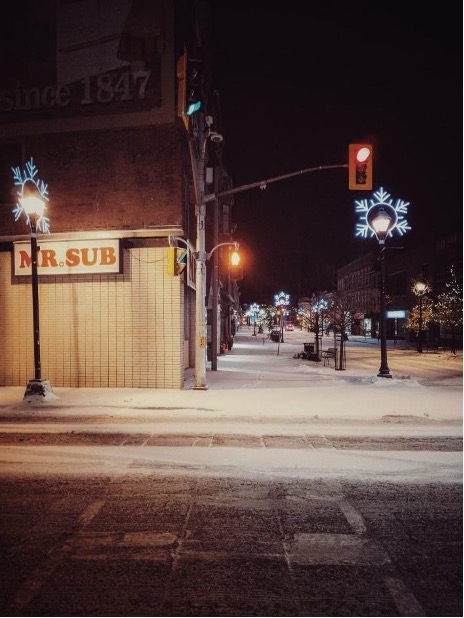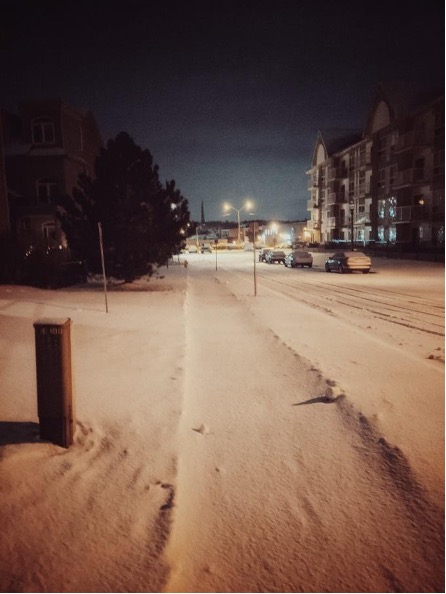 But it was not too bad. I quickly learned to translate degrees Celsius in layers of clothing, a quick look outside gave me the hint for footwear, and the speed of wind directed my choice of accessories. I even learned to appreciate the poetics and dynamics of winter, started looking forward to the holidays, adapted my hobbies, took up skiing, and made friends to play board games with on cold winter nights.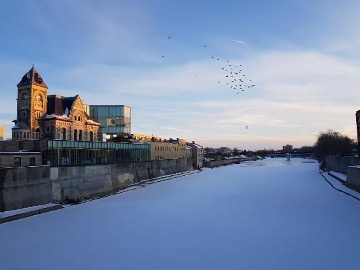 Nevertheless, there are a few things I wish I knew…
Most of the Canadian population lives South of Milan (David Taylor, 2015)
The University of Waterloo – together with all its satellite campuses – is located in Southern Ontario. To put things in perspective, have a look at this map lining up some global landmarks with major Canadian cities using their latitude. It looks like winter in the Kitchener-Waterloo-Cambridge region and the Greater Toronto and Hamilton Area can't realistically be too bad! Well, perhaps a bit chillier than a cold Parisian winter then…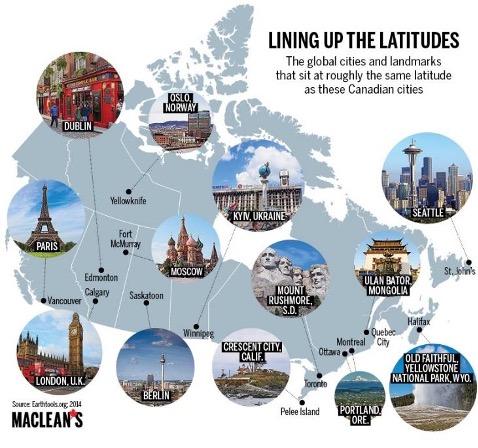 It's rarely below -10° C, and when it is it pretty much feels the same
The key is to adjust how you interact with your environment rather than treating it like a permanent threat you need to protect yourself from. For instance, time when you leave your house  to spend as little time as possible, waiting for transit, work out logistics with friends or relatives who own a vehicle for some carpooling when you need to go to the store, and planning to take your trash out during the most favorable outside temperature… The bottom line is, the longer you stay outside in the cold, the more preparation you need. I prefer to look at it this way rather than the generic "it's cold in Canada, you need an expensive down coat". Though, I am not advising you to stay indoors the entire winter season. Rather, I am inviting you to reflect and better manage your movements in a new environment you are still getting used to.
Understand how insulation works
Having come to Canada as an architecture graduate student, I took a selection of courses during my first term at the University of Waterloo, School of Architecture, that introduced me to the Canadian building culture and especially the technical aspect behind it. The course that taught us the design of high-performance enclosures for cold climates was, in many regards, very useful, especially to internationals.
Seal good, seal strong
Like the layering of environmental barriers within a wall, go shingle fashion. Meaning, have your coat run over your pants covering the junction, and then have your pants run over your boots protecting the junction. Junctions are the meeting point of two element's material. They are known in building science for being the weakest spots that need to be safely sealed using different methods including the "shingle fashion".
It's all about the foundation.
Keep your feet warm. Insulating your footing is primordial to your well-being during winter as we insulate the building foundation from frozen soil. 
Layer up… smart
Heating does not work like most people think it does. In fact, it is less about the heat flow generated and more about keeping the said heat where we want it to stay, by preventing it from "escaping" from weak spots. In buildings, these are windows and glazed areas while in clothing, the weakest spots are again, the junctions. Therefore, insulating and perfectly sealing the seams is important and preserves the generated heat in your body. With that in mind, if you will be active outside, walking or practicing a physical activity, you might need fewer layers than if you were to stay static waiting in an outdoor line.
Understanding the materials
Some brands offer technical fabrics with specific features and novel technologies. While those are worth trying, they are not vital. Moreover, sometimes their price point keeps them rather inaccessible for most students. Nevertheless, materials are important especially if you plan on living in Canada for an extended period and would like to try some of the winter activities. For example, investing in good ski gear. Many of the items will often come in handy. Snow pants and snow gloves are particularly versatile, and extremely useful to have. This will broaden the spectrum of activities you can engage in during winter from hiking to tobogganing and tubing.
Essentials vs nice-to-have: Identify the differences
While keeping in mind the above and building up your own strategy as you go is enough for you to enjoy Canadian winter, there are some fun, more sophisticated gadgets out there worth checking out: tech-friendly gloves will spare you the unpleasant feeling of frozen fingers while quickly using your phone in the cold, electric footwear dryer will keep your shoes dry and cozy for you, and traction footwear with metal grips will prevent some of these ridiculous falls on icy sidewalks. Not all of them; because you do need a solid collection of those to build YOUR Canadian Winter story!
All in all, you will figure it out and you WILL NOT freeze in the process!
Cheers,
Meryem Chahboun
The Grad Student Adventurer Blog Launch:
Introducing our Blog Editor, Navya Nair, and Post Topics
By Navya Nair, GSA International Student Coordinator
As we continue through the ongoing COVID-19 pandemic, more than ever are we feeling the pressures of staying inside, being away from family and friends, and having it affect our studies and daily habits. Lately, the stress of being indoors has made me think about a similar time when I faced hardship, and more importantly, how I found strength. This was right before Fall 2019, when I made a life-changing decision to relocate from Kerala, India to Waterloo.
My thoughts stretch back to a hectic time of accepting my offer to the University of Waterloo for a Masters in Sustainability Management and how life changed shortly after. One moment I was working at the Indian Institute of Water Management as a Senior Research Assistant, the next I was with my parents for a short vacation, and soon I was landing at Pearson International Airport. At the time, it didn't matter how busy the days were; all I could think of was being happy about my admission.  However, just like the end of most magical moments, reality hit hard and I found myself struggling to transition from my comfort zone to a completely new place. I felt anxious, even though I was looking forward to what Waterloo was going to bring to my life.
My mind drifted back to when I felt uncertain about accepting the offer of admission. I had so many questions flooding my mind: Should I leave my home and friends to start a new life for a promising degree, or should I stay in the comfort of my home and familiar surroundings? What if I can't make friends or complete my studies well? All my life my mother fed me delicious food; how will I cook on my own?  On top of these concerns, I had worries about my finances as I did not have enough funds to pay for educational expenses. It was definitely not an easy decision for me to make at that time.
Let's now fast forward to present day and everything I have gained by in the end, making the choice to come to Waterloo for my studies. I am now one and half years into the program and have found my courses to be exciting and fulfilling. Through my graduate thesis work, I was able to integrate my engineering background with social science.  I had a great time with my classmates, most of which were international students from diverse parts of the world. I remember the GSA-UW Graduate Fall 2019 Orientation well as it was a time where I met most of my friends. I miss those days where we'd meet at the Student Life Centre and the Graduate House after our classes.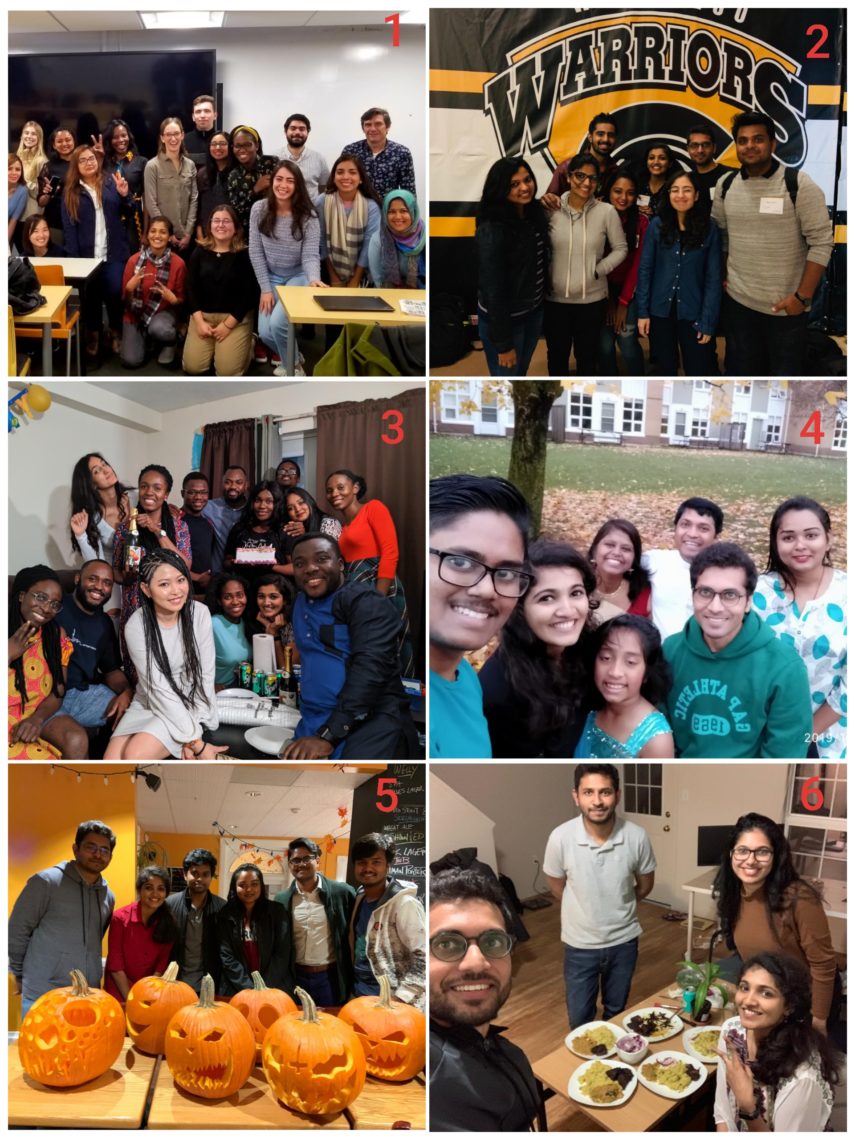 1-My classmates; 2-GSA Fall 2019 Graduate Orientation; 3-Friend's Birthday Get-together; 4-Small gathering at CLV for celebrating Indian festivals; 5-Pumpkin Carving at Grad House Fall 2019; 6-Relaxing by cooking authentic Indian food on weekends.
My stay in Columbia Lake Village (CLV), our university's graduate and student family housing, was attractive. I could engage with a townhouse community filled with students and families from all over the world. My close friends here are more like family and have created my home away from home. My life has been made more enriching and enjoyable because of them.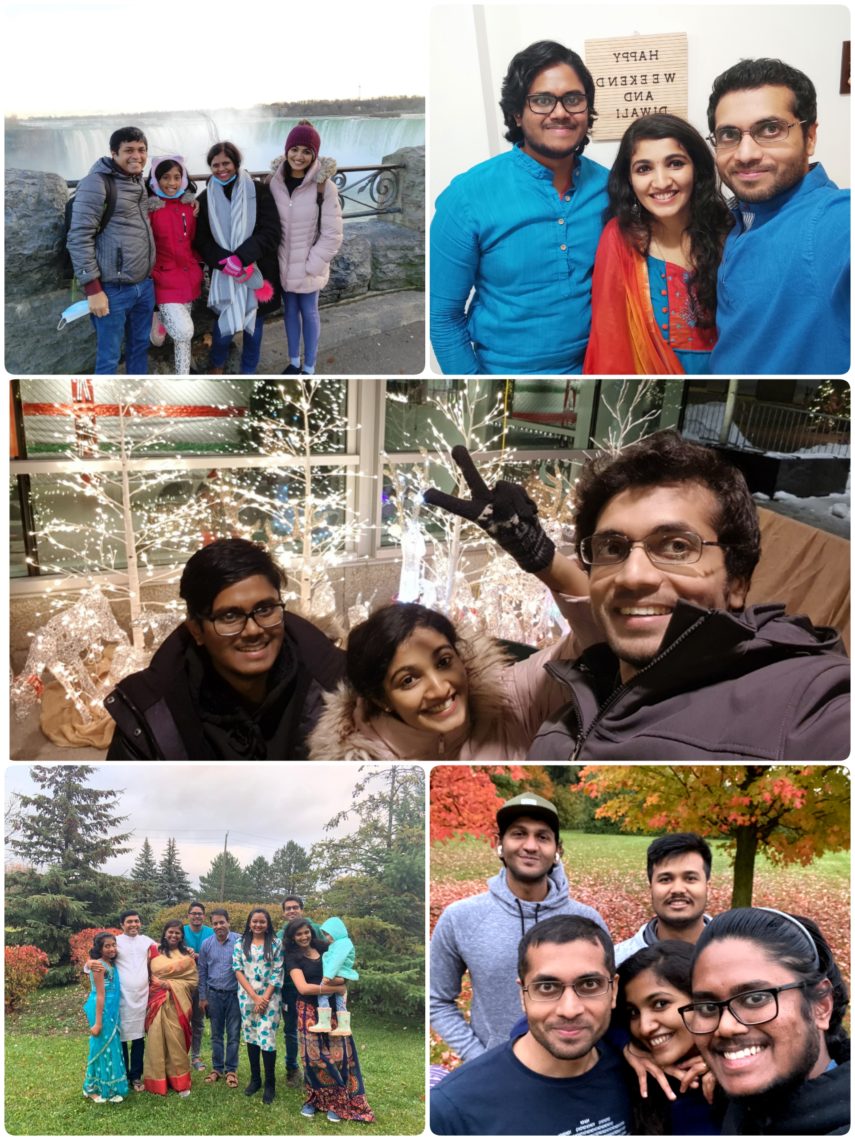 Although it wasn't clear at the time, I am definitely certain now that I made the right choice to take up a degree here in Waterloo. It isn't to take away from the hardships and difficulties I faced at first, there was a lot to learn in terms of culture and studies, and at times it was lonely too. However, I've never regretted my decision. What I found is whether we like it or not, we all have to make some important decisions at some points in our lives as they allow us the opportunities to grow as a person by adapting and adjusting our life strategies. On the whole, all of this reflecting has left me with the conclusion that sometimes you do just have to take a bit of risk in life to progress which worked for me, even if I had to fight a lot with my inner self. To me, it matters less on what you decide but once you have decided you make the best of it, wherever it may take you. These ideas are what pushes me forward throughout the pandemic and I hope it gives you some comfort as well.
By being an international student myself, I understand how it feels to move to a completely new location and have experienced the ups and downs of going through this journey. For this reason, I took up the role of International Student Coordinator with the GSA-UW to help our international graduate students to smoothen the transition and connect with the University especially during this pandemic. We hope that our "Grad Student Adventurer" blog will connect and build a strong international graduate student community by sharing experiences and helping one another through tips and advice. I encourage every graduate student to explore, ask questions, connect, and use the resources that are offered to you. The "Grad Student Adventurer" will feature topics covering culture, life, career, studies, and resources:
Culture: Featuring both adjusting and learning about the Canadian lifestyle and getting to know the vibrant cultures of our international graduate students.
Life: Tips and experiences on a wide range of subjects, including budgeting and finances, housing, family and care-giving, planning to settle in Canada, and wellness.
Career: Topics related to career development, such as tips on finding a start-up or company to work at.
Studies: Advice related to the international graduate student study and research experience.
Resources: A page filled with resources specific to international graduate students at the University of Waterloo.
The "Grad Student Adventurer" is written by and for graduate students. I look forward to reading about the tips and experiences that you'll have to share…perhaps we'll hear your story about making life-decisions like mine and how you're working through the pandemic.

If you have an interest in writing a blog post or would like to request a post topic, send me an email at gsa-international@uwaterloo.ca.

Hope to hear from you soon and that you'll get a lot out of this blog!