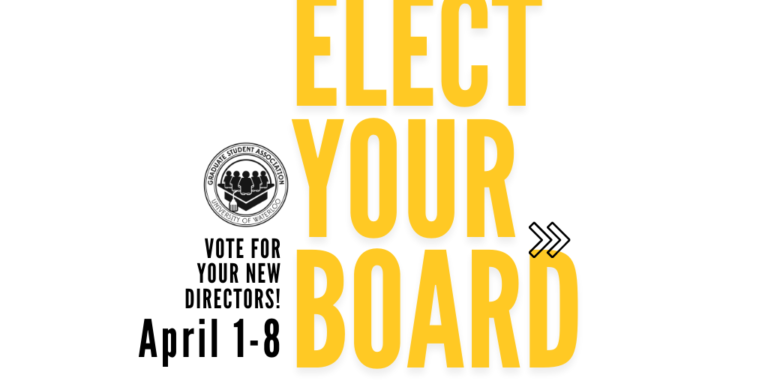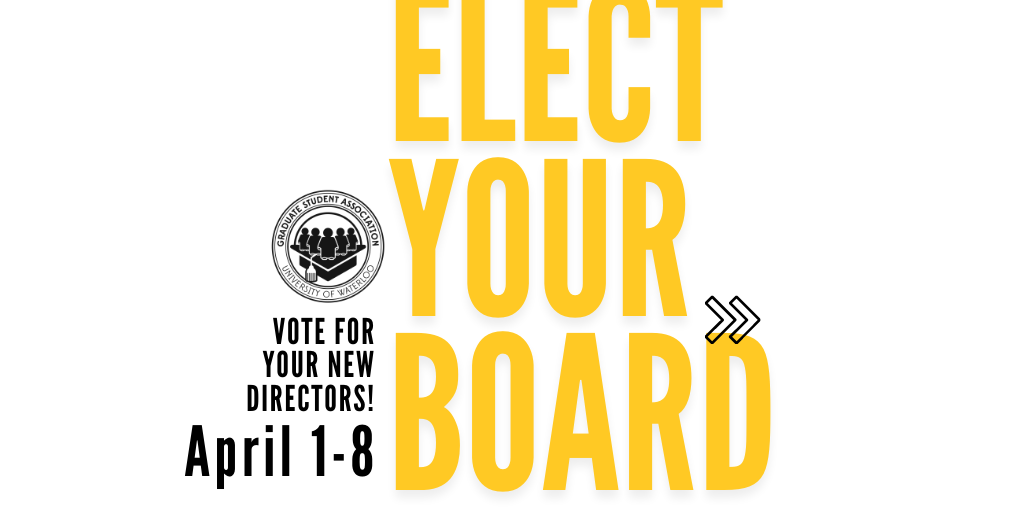 GSA-UW Directors Election 2021: Call for Nominations is now closed.
The GSA-UW is accepting nominations for the upcoming Board of Directors election to fill five (5) vacant positions. University of Waterloo graduate students are invited to put forward their application and run as a candidate in the Board of Directors election. Official notice is hereby served for the election to fill the vacancies of the GSA Board of Directors.
The directorships terms of office are:
Five (5) directorships beginning May 1, 2021 and ending April 30, 2023.
The GSA-UW Board of Directors is responsible for overseeing corporate interests of the Graduate Student Association. Directors are elected by graduate students each year at the GSA Annual General Meeting held in the Winter term. 
The Board is governed by the GSA Bylaws and may consist of ten to fifteen Directors.
The Board of Directors have monthly regular meetings, and operates according to the Carver Policy Governance framework, meaning that the Board focuses on strategy and oversight, and delegates day-to-day management to staff. Directors are expected to have 15-20 hours time commitment per month.
A technical description of the position can be found in our Policy Registry, and in GSA Bylaw #5.
The GSA-UW Board of Directors are involved in significant conversations and decisions directly related to student life at UWaterloo, and this dialogue is strengthened when the Board of Directors is comprised of students with diverse backgrounds, identities, challenges and experiences. The GSA-UW Board of Directors is responsible for identifying and removing structural barriers and enacting policies and practices of inclusions so that all graduate students have equal access to and can benefit from the programs and services offered. The GSA welcomes and encourages applications from qualified individuals who are Black persons, Indigenous persons, persons of colour, persons with disabilities and/or accessibility needs, all religions and ethnicities, and all gender identities, gender expressions and sexual orientations.
Nomination Period & Form:
The call for nominations period has been extended! The call for nominations will close on March 24, 2021 at 3:00PM EST.
The nomination form will only be considered completed when the applicant receives the endorsement from five (5) graduate students, as indicated by completion of lines 1-5.
Nomination forms must be submitted to the Chief Returning Officer (CRO) at gsa-cro@uwaterloo.ca before the posted deadline.
Nominees will receive a confirmation of receipt from the GSA Chief Returning Officer (CRO) within three business days of submission.
Nominees can either use single form or multiple copies of the form to collect all 5 signatures from members nominating them. Digital signatures on the nomination form are also allowed.
How to Collect Signatures for your BOD Nomination form!
Step #1: Download the form from the Board of Directors election webpage (see above).
Step #2: Think of five of your graduate student peers that would be willing to endorse your nomination form. The information provided by these students on your form acts as their support for your nomination.
Step #3: Send a message to your peers to ask if they would support your candidacy by providing their information on the form. Feel free to explain why you'd like to run as a Board of Directors candidate and why you think you'd be great at the role!
Step #4: Send your nomination form(s) to your peers after they have agreed to provide their information.
Step #5: Submit your completed form(s) to the CRO before the deadline of March 24th at 3:00pm EST.
Hot tip: You can submit one form with the completed information (signatures, student number, etc.) from all five students, or five separate forms with information from one student each – both versions are acceptable! 
Campaigning & Voting Period
The campaigning period begins on March 25, 2021 (business hours) and closes on March 31, 2021 (business hours).
Candidates may provide a photo and a brief statement to be posted on the GSA website (Maximum 150 words). Candidates may also campaign on their chosen forms of free media during the campaigning period. The use of University of Waterloo email lists and/or paid promotional material in any forms of media (including posters), either on-or off-campus, are

not permitted

.
Online voting: Starts on April 1, 2021 at 10:00 AM EST and closes on April 8, 2021 at 12:00 PM EST. A notice will be sent to all eligible graduate students and they may vote once during this period.
Students can also vote online via electronic ballot at the Annual General Meeting 2021 (AGM) held on April 8, 2021 at 4:00 PM EST.
Candidates are invited to engage in a live Q&A period at the AGM 2021.
Frequently-Asked Questions
Can Master's students run for the open Board seat? If the seat is held for two years, can a student going into the last year of their degree run?
Yes! The Board ideally runs on an offset schedule where Directors hold seats for two years, and half the Board is elected in each year. This schedule could discourage Master's students and others near the end of their degree from applying. The GSA benefits from all students having the chance to contribute. Students can run for a seat and indicate their intention of holding it for only one year. The Board monitors its turnover and works to ensure knowledge transitions from one Director cohort to the next.
What qualifications should I have to run for a directorship?
The qualifications are twofold: passion for serving graduate students, and an ability to learn on the fly! Directors from a broad set of experiences and backgrounds are needed to guide the GSA in its mission to serve graduate students. During on-boarding, all Directors get trained on the ins and outs of the GSA and its operations and services. Someone with prior not-for-profit, accounting, or auditing experience might have a lot to contribute when the Board considers the annual GSA budget, but another student with experience in campus and community activism could truly shine when discussing the GSA strategic plan or community partnerships.
What is the commitment like?
Directors are volunteers, but also hold fiduciary duties to the GSA. The monthly time commitment is about 10-15 hours total, and consists of 3-6 hours of Board meetings, a 3-hour Council meeting, committee meetings and committee work that they are passionate about (1-5 hours), and 1-2 hours of time reviewing documents prior to meetings.
What is serving on the Board like during the pandemic?
Board meetings used to take place with Grad House coffee and treats to last the 3+ hours of discussion. The Board has worked hard to replicate the camaraderie that comes from lots of monthly meetings (whether Board, Council, or committees). Whether through virtual lunchtimes, or evening board games, community building happens online now. This serves many Board members, who are no longer impeded by physical distance from campus or the lack of their favourite comfy chair at home.
The Board of Directors is responsible for the operations of the GSA and is accountable to the graduate students of the University of Waterloo. For information please view Board of Directors, the Association's governance webpage, and By-Laws (By-Law#5).
Comments, concerns, and questions should be directed to the Chief Returning Officer at gsa-cro@uwaterloo.ca.